Some thoughts as the love affair is ended.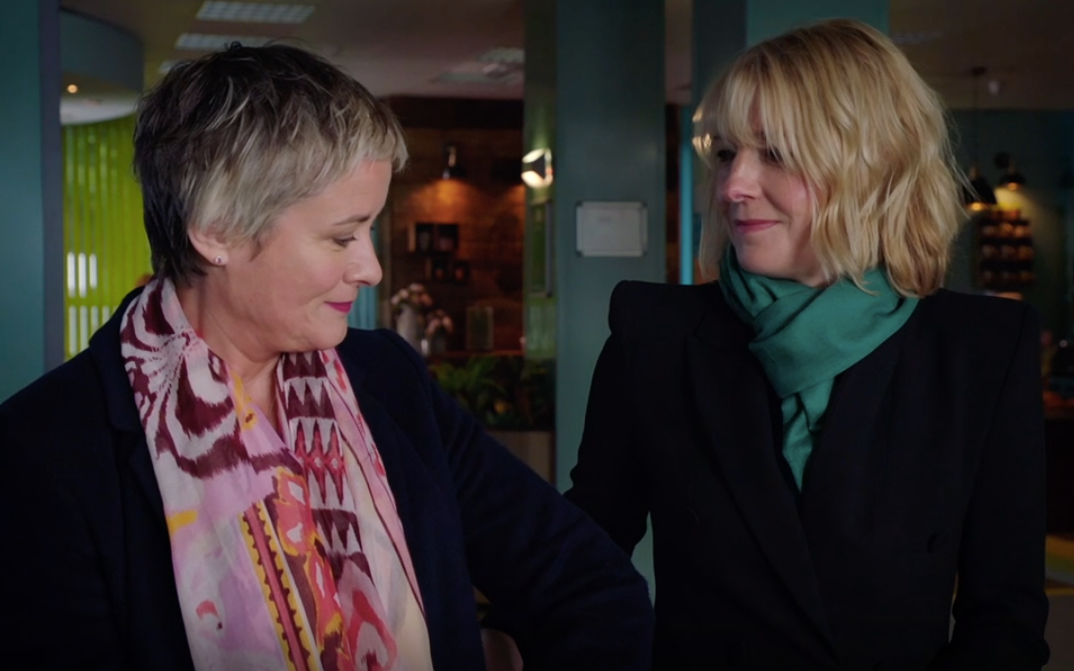 Finally there was harm.
And an astonishing amount of pain. Around the world.
It is this global impact that I find most astonishing, heartbreak shared from England to New Zealand, North America to Vietnam, Belgium to Kazakhstan. And my share of it.
In the end the faith was broken.
I came late to #berena fandom. I had never watched the BBC's Holby City until, one boring Saturday night I tuned in to Casualty to watch a helicopter crash on A&E. Nothing like a good disaster to while away some time. There was a crossover story as a consultant was injured (not by falling helicopter), so I tuned in to Holby the following Tuesday. Though nothing more was learned about the Casualty casualty.
The episode was 'Protect and Serve' (Series 18 Episode 47)
My first reaction: Good god, Jemma Redgrave's in it!
How did a member of acting royalty pitch up in a medical soap? Maybe snobbery had clouded my judgment.
A senior nurse was stabbed. Oh typical soap, all about the staff not the patients.
Then Redgrave, in surgeon's scrubs, was sat on the floor of the theatre with another actress playing a surgeon. (Have surgeons ever done this anywhere? Oh well…)
And they kissed.
Bugger me, what have I been missing?
Thus was I drawn in by an exceptional storyline, discovering that this was drama more than soap, generally well scripted, not afraid to explore issues (mental health especially) and, at times, very well played.
Typically for a lesbian storyline, the next week it was all off but the rapport between Redgrave and Catherine Russell, the humour, the pathos, was a joy to watch. A few weeks later there was another kiss… and Redgrave left. Of course. Remember Halifax.[1]
I did keep watching though because another storyline caught my attention. The abusive relationship between Dominic and Isaac, with the charming and attractive Isaac increasingly revealing his sociopathic nature. I recognised this quickly as I too had been in such a relationship. It was well done.
In the meantime, I grew to know and like Holby's characters. Serena Campbell (Russell) was good fun, a complex character with whom I identified and empathised.
Then Bernie Wolfe (Redgrave) returned.
She is a great TV character, brilliantly conceived, written and played. A woman who is absolutely fearless on the medical frontline, a highly regarded trauma surgeon, whose personal life is chaotic, she lacks confidence in relationships. The scriptwriters and Redgrave have done a magnificent job in making Wolfe so credible.
I watched each week as the story progressed first happily then darkly as Serena's daughter died suddenly[2]. Notwithstanding my aversion to TV's propensity to bump people off for dramatic substance far too frequently, I kept watching.
I have seen the impact of such grief and know its consequences. My ex-partner's niece, a beautiful talented young woman, died suddenly in a stupid accident. I watched as the family closed in to each other in their grief. This never ends. My mother's elder sister died aged 20 in 1936 and the impact on the family has reverberated even to my own generation. There is a lot more the Holby scriptwriters could do with this story; how Serena might react to Bernie's daughter getting married, for example.[3]
The Serena-Bernie relationship held firm and the two actors worked so well together. Serena barely able to cope, bullying a young doctor. Poor girl got bumped off herself a few episodes later. Unforgivable. Bernie being an absolute rock: "I'm tough. I'm bloody tough!"[4]
Then Serena left to find and heal herself and Bernie stayed for a while and then set off to join her, on the way to a new job.
It is only since then that I have learned how real life had sculpted the larger story as Russell requested a sabbatical and Redgrave, committed to other projects, was never in it for the long haul. It is only since then that I have learned how this tale of a middle-aged lesbian relationship has resounded in the hearts of many women, and some men, not all gay, not all out. How it has emboldened some women to confront their own sexuality; Serena never previously experiencing anything but friendship with a woman[5].
Serena returned because Russell is a permanent member of the team. The pretext was that she would eventually rejoin Bernie, that she simply came back to Holby City Hospital in its hour of need following a bloodbath that Shakespeare would have relished. But she stayed.
Then rumours circulated that Redgrave was back filming at Elstree and the magnificent Bernie Wolfe surprised her erstwhile lover and lesbian hearts swelled with joy.
This is where I got truly hooked. I watched the two-parter 'Primum Non Nocere'[6] repeatedly, I lost count of how many times I watched THAT scene… "Will you wait?" "For eternity."[7] It was Mills & Boon on speed but I relished it filling the emotional void in my own life.
I searched the internet for past episodes. I'd have bought box sets had they been available (the BBC is missing an income stream surely). I learned the term 'Berena' and a meaning for 'ship' I had not previously encountered. I followed Catherine Russell and Jemma Redgrave on Twitter and found they shared my anti-Brexit sentiment. I joined a Facebook group and discovered fan-fiction, some of it very risqué. I came across dozens of YouTube posts with pertinent clips from the Berena storyline and poignant background songs. And there was humour. The Berena Breakdown pieces are very funny as is the Twitter account @bernielovesbarns based on a single line: "Barns are good."[8]
I found most of the lead-up episodes, or parts thereof, to that first Berena kiss in 'Protect and Serve' and wished I'd seen them in real time to share the delicious conception and growth of this love story. As someone has noted on Twitter, "Engine been growling or whining?"[9], Bernie's first words to Serena, is the best pick-up line ever! (Serena's car had broken down.)
Someone in the Facebook group sent me links not only to all the Bernie/Berena scenes but also to all the Serena scenes. I loved watching Russell's entrance in Series 14[10], the development of Serena's character from the breezy bringer of change with a penchant for flirting and Shiraz in copious quantities through double tragedy (mother then daughter). One of the most striking scenes for me is one between Russell and Sandra Voe, playing Serena's mother Adrienne who has dementia. Adrienne physically attacks Serena[11]. If this were a movie, it would surely garner awards such is its raw strength and humanity.
I binge-watched the whole lot in about a fortnight.
Perhaps this is why, my late arrival in Camp Berena, my immersion in seven years of TV drama this summer, I am now part of a global family grieving the ending of Bernie and Serena's relationship. Perhaps this is why my own heartbreak is so intense.
This is heartbreak. I've been here before. I do recognise the symptoms. But never before for a fictional couple.
The #keepthefaith hashtag apparently became code for the Holby team's respect for the storyline and people's investment in it. The story gained a life they had not anticipated, it struck a chord with so many women. I can imagine them wondering how to get out of something that was only ever supposed to last about a year. But they promised to respect the fans, apparently understanding that fictional lesbian couples rarely get a happy ending, one of them usually gets bumped off or there is infidelity.
Perhaps had the script team allowed the pair to drift apart – Serena stuck in Holby with her job, her nephew, his partner and baby daughter, Bernie in her dream job running a trauma centre in Nairobi (where homosexuality is illegal, incidentally) – perhaps so gentle an ending would have been bearable.
But 'Primum', looking as if it would bring closure – "It's not going to work, is it?"[12] – as they sat on the corridor floor (a nice dovetail with the first kiss) as Serena's great niece is born, wasn't going to let go. We were given clear hope for their future together: "I cannot imagine a life without you" Serena confessed. "I'll be back, soon enough" promised Bernie[13].
So what happened between the planning for 'Primum non nocere' and the planning for 'Love is' and 'the Right Sort of Animal'?
Did Jemma Redgrave say she'd rather not keep popping back every six months to keep this simmering?
Did Catherine Russell say she was sick of drifting round the wards and could she have some drama to get her teeth into?
Did Simon Harper (Executive Producer) and team decide that was enough pandering to middle-aged lesbians, time to move on?
Serena went to Nairobi (off screen) and we were told she was visiting vineyards in Capetown (over 2500 miles away from Nairobi!) and she didn't see much of Bernie who was busy setting up the trauma centre. WTAF – Big Clue!
Then, then in comes Dr Leah Faulkner (Hannah Daniel). And Serena has a character transplant.
This is the consultant who hates tittle-tattle fuelled by office romances and inappropriate copulation in store cupboards[14]. This is the consultant who confessed to Fletch while he was in a coma that, with Bernie, she'd broken her own rule about keeping work and love life separate[15]. This is the woman who divorced her husband for his infidelity. This consultant is now shagging an F1 in the on-call room[16], and possibly setting herself up for a charge of sexual harassment in a future episode, while the love of her life is on another continent, she thinks.
And that same night Bernie walks back onto AAU.
We sit on the edge of our seats (yeah, good drama) as we wonder how Bernie will find out about Leah. Serena wears a troubled frown throughout. Bernie worries Serena will have her head turned, resigns her "dream job" in Nairobi and tells Serena she's coming home, they can move in together, "we can finally do this properly". "Fantastic!" exclaims Serena, briefly losing the frown.[17]
A week of frenzied speculation follows on social media. Will they marry? We know weddings will feature in the next episode. They couldn't possibly part, could they? Not now. Holby wouldn't do that to us. #keepthefaith, Catherine said "Wait"[18], that must be a good sign…
Boom.
Serena didn't confess, nor did she apologise. Bernie guessed about Leah but forgave her anyway. No greater love… They didn't marry. Serena dumped Bernie at the other two couples' wedding reception (the writers might think she let her go, whatever). Bernie left with a left-handed salute and a wink and Serena did the conga with a broad grin on her face[19]. Well that was a change from the pained expression she'd worn for most of the episode. Possibly a headache from the transplant…
Could it not have ended with a retreating shot of Serena looking utterly devastated at the end of her "one great love affair"[20]?
It just didn't work, chaps. The seams were showing. This was a stitch up. We've been sutured.
Here's the thing. If they'd parted for good at the end of 'Primum', substituted the "for eternity" and "I'll be back"[21] scenes with the wedding reception conversation from 'Animal'[22], it might have worked. We'd have cried but we wouldn't have blamed. Lesbian respect would have been intact. You teased too much out of it, out of us, and blew it.
Great Christmas present, guys.
For me, the real kick came with Catherine Russell's tweet on the dot of 2100 hours: "Thank you @jemma_redgrave X". That told us that this was The End. Hope dead on the operating table. (I'm so sorry, Catherine.)
Many women got no sleep that night (Tuesday 11th December). A tsunami of sorrow encircled the world. Messages of despair and mutual support were exchanged as we sought relief from the pain. Someone tweeted contacts for those struggling with the impact, including the Samaritans. For some, grief turned to anger and some hit out at Catherine Russell, the writer, Ed Sellek, and Executive Producer Simon Harper. Russell tweeted that it had "turned sour".
How did they not see this coming?
Yet the teasing continues. Ed Sellek says that Serena catching the bouquet was a sign of hope. Really? Another seasoned Holby writer has tweeted: "if people choose to believe the story is done there's really nothing you can do about that." You mean there is more?
Presumably, in the interim, if it is an interim, Russell will get some meaty dramatic storylines. Know this. If you have met your one true love, no-one else will compare. One of my girlfriends had found her soul mate elsewhere. In me she just wanted a lover. Anyone they pair with Serena now will be just this, sex, maybe a bit of companionship, nothing more.
There is a brilliant YouTube post that shows the key Berena scenes in roughly reverse order chronologically to Coldplay's 'Take Me Back To The Start'. I find it cathartic as it wraps the whole story in one piece. Leave it there.
Others with more academic knowledge of lesbian psychology and the role of fiction and drama in validating lesbian identity may be able to rationalise the impact Berena has had on our community.
Why did this story strike such a chord?
Because we don't see middle-aged lesbians on telly. The fact is, though, that many women don't come out until they are older because women need to conform more and because the drive to have children is stronger.
Because we rarely see two women working together so well in entertainment media which are largely driven by male agendas that see women competing only for male affirmation.
Because this storyline was exquisitely constructed and acted. The lingering looks, the gentle touches, the shared humour, the timing.
Because Redgrave and Russell were a formidable team, they spoke volumes with their eyes. They raised each other's game with an intoxicating on-screen chemistry.
Some impresario should be seeking an appropriate vehicle to get them on stage, or better, on film. What other plays have lead roles for two mature women in their prime? There's the rub. They may need to plunder Shakespeare Donmar style and recast male roles.
To me Berena seems a little like Camelot, for one brief shining moment… Fifty years ago I fell for Jemma's Aunt Vanessa[23] in the role of Guinevere (yes, the name of Serena's great niece). Perhaps I am a little in love with the great Bernie Wolfe. Oh for a spin off – Holby City does The Good Karma Hospital in Kenya!
And so, tandem est nocere, finally there was harm.
The sorrow is that rarely do we see two such accomplished female actors given such roles, such a glorious storyline, and playing it to perfection. And this is ended. And we grieve.
Thank you, Jemma Redgrave and Catherine Russell, for Berena.
Dr Viv Pointon @VPointon
December 2018
[1] Last Tango in Halifax in which one half of a happy lesbian couple was killed off.
[2] I Do, I Do, I Do, Series 19 Episode 13.
[3] Actually some reference to this should have been made in 'The Right Sort of Animal' or earlier.
[4] It's Only Love If It Hurts, Series 19 Episode 26.
[5] Brave New World, Series 18 Episode 48.
[6] Series 20 Episodes 24 & 25.
[7] Primum Non Nocere, Episode 25.
[8] Back In The Ring, Series 18 Episode 43.
[9] All Fall Down, Series 18 Episode 20.
[10] Coercion, Series 14 Episode 29.
[11] Mummy Dearest, Series 16 Episode 50.
[12] Primum Non Nocere Part 2, Series 20 Episode 25.
[13] Ibid.
[14] The Hope That Kills, Series 18 Episode 14.
[15] Brave New World, Series 18 Episode 48.
[16] Love Is, Series 20 Episode 49.
[17] Ibid.
[18] She has subsequently said this was taken out of context.
[19] The Right Kind Of Animal, Series 20 Episode 50.
[20] Primum Non Nocere part 1, Series 20 Episode 24.
[21] Primum Non Nocere part 2, Series 20 Episode 25.
[22] Op cit.
[23] I met Jemma's father once, we were waiting in the foyer at the Hampstead Theatre. He mistook me for someone he knew! Took some persuading that I was not she – as if I'd forget knowing Corin Redgrave! I do have a friend who knew Vanessa back in the day though…